When it comes to planting and keeping your house beautiful, its' not just the outside that matters. Inside a house also plays a certain role in it. Nowadays people are focused on bringing nature indoors because they lack a garden outside or just because they prefer to have greenery inside to increase the quality of life. When it comes to Sri Lanka, with our country being a tropical country, it is better to know what plants will grow indoors before your buy and plant them. We present you with some of the Indoor plants for your house which add quality to your household over time. (The plant form and colors may differ depending on the varieties)
---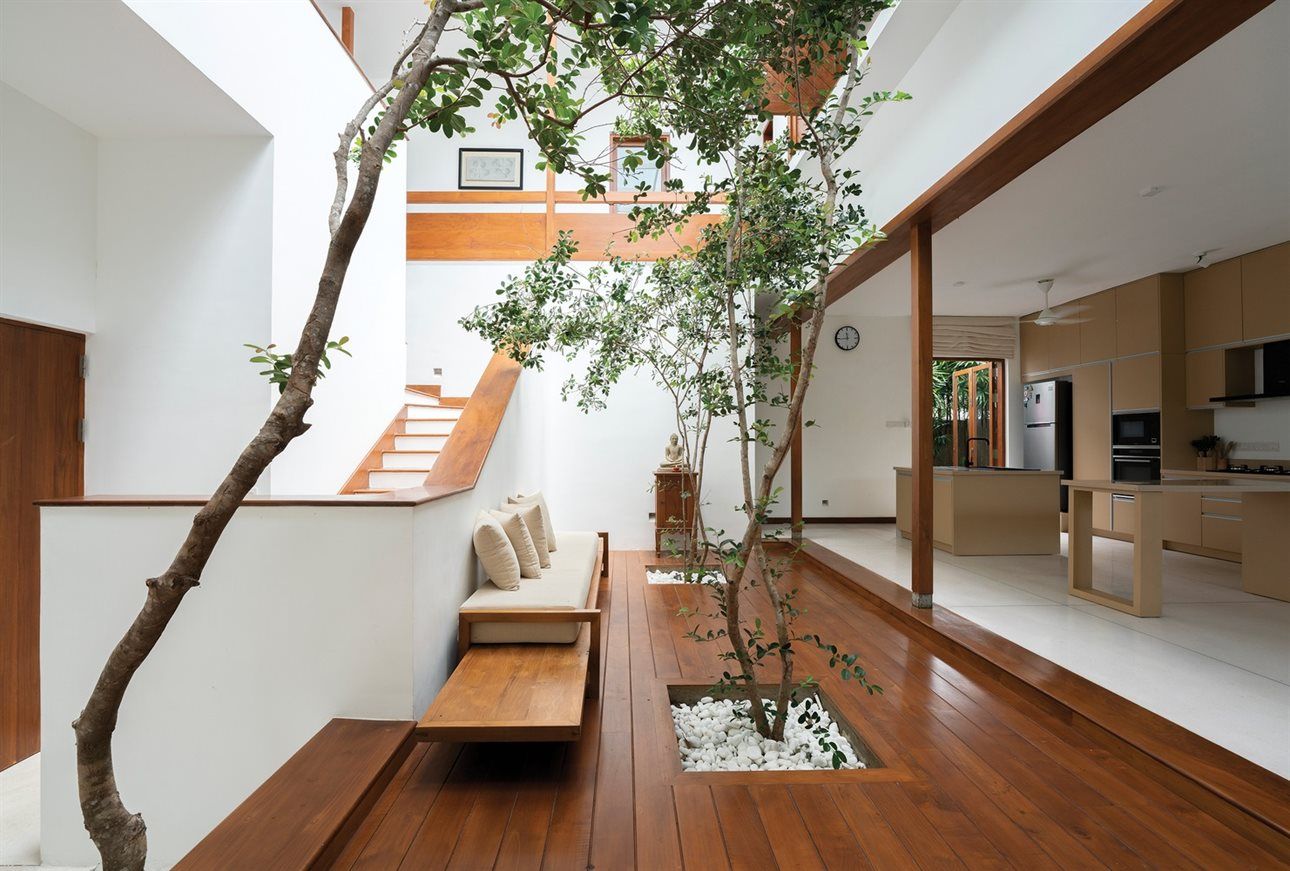 This is an example of how you can use indoor plants for your house to make it more attractive, pleasant and natural.
---
1. Lady Finger Palm
Scientific name: Rhapis excels
This plant adapts easily to different climates, soils, and surroundings easily which makes it suitable for both indoors and outdoors as well.
It has a striking appearance which makes it a very eye-catching plant in any space. The leaves are thick with blunt tips and wide leaf blades.
The plant grows up to about 12 feet in height. But when in indoors, the growth rate is decreased. So, you don't have to worry about the outgrowth of the plant. But if it does grow, the pruning methods can be used to control the shape and the size of the plant.
2. Lucky Bamboo
Scientific name: Dracaena sanderiana
This plant is of southeast Asian origin. It can be trained into many different shapes which makes it more ideal for indoors. These plants are inclined towards tropical climates. But water supply is necessary to keep the plant strong and growing. The soil should be a bit damp.
The height could range between 3 feet to 10 feet. But it does not grow massively due to the indoor climates like typical bamboo plants.
3. Areca Palm
Scientific name: Dypsis lutescens
These plants are native to Madagascar and South India. They reach to a height of 6 to 7 feet. But they can be trimmed according to the need. The pots should be changed every 2 to 3 years.
The plant can grow in indirect sunlight. But water is an essential factor along with moist and nutrient rich soil.
4. Cheese Plant
Scientific name: Monstera deliciosa
This plant has unique appearance to it and grows small or large depending on the environment. They are climbers in their natural habitat. It requires rich, nutrient soils which holds the moisture for a certain period of time.
If it is potted, the pot requires additional drainage holes to accommodate the plant. Pot should be changed between 1-2 years.
5. Gold Dust Dracaena
Scientific name: Dracaena Surculosa
Plant has leaves with yellow and white color mixed spots which gives the appearance of scattered gold dust.
This plant is suitable for households with lower light conditions. And direct sunlight should not be given as it causes the leaves to fall off. Too much watering should also be avoided. Twice per week will be enough. Dracaena does not flower indoors often. The plant usually has a slow growth rate which makes it easy to handle indoors.
6. Moth Orchids
Scientific name: Phalaenopsis
Orchids are the go-to flowers when it comes to indoor plants for your house. There are different varieties of orchids. But the most popular one would be the phalaenopsis. The flower colors are very vibrant, and this is more like the orchid beginners plant.
When it comes to climatic conditions, the sunlight throughout the day is important. That is why it is always better to place the plant close to a window, a balcony, or a courtyard. But shade should also be provided accordingly. Since its' a flowering plant, the plant should be checked for insects or pests. The plants can be obtained to a lower price as it is very common among gardeners.
7. Chinese Aglaonema
Scientific name: Aglaonema
The plant has the ability to tolerate drastic conditions without the ideal environment. Therefore, they lasts long in low light, dry air conditions. The average humid conditions are required for the plant to grow up well. The pot needs drainage holes more than usual because the plant doesn't do well in waterlogged soil.
Linear oval shapes leaves are found. Older plants sometimes tend to produce flowers. Aglaonema comes in different varieties and colors as well. The maximum growth height would be up to 3ft.
8. Dwarf Umbrella Tree
Scientific name: Schefflera arboricola
These are tropical plants with oval shaped leaves with shiny leaf blades. The plant leaflets drapes in a shape of an umbrella from the center. They do not usually flower indoors.
When maintaining the plant indoors, it is better to provide the plant with indirect light and warm conditions. The shrub might grow tall when planted outdoors. But indoors it can be kept up to 8 ft tall maximum or less. If it does grow taller, it is better to plant it on the ground or in a courtyard.
9. Dumbcane
Scientific name: Dieffenbachia seguine
This is an introduced species to Sri Lanka. But it is cultivated as an ornamental plant in houses. The plant thrives very well in bright lights, but it grows healthy indoors when kept facing east or providing enough light conditions. Plant soil should be kept moist often.
The plant produces white flowers, but it is rare. Leaves tend to spread out and then arch downwards with height. The stripes of yellow and white are unmistakably seen on the leaves. They can grow about 4-5ft in height. The plant parts are known to be toxic. Therefore, it is better to keep children and pets away from the plant as well.
10. Birds' Nest Fern
Scientific name: Asplenium Nidus
This is a very popular fern type that is usually planted indoors ad outdoors both. It has leaves arranged spirally around a single point spreading outwards. They are cheap and easily found on the market. Plant is all about lush green rather than flowers.
The plant requires humidity to a certain extent to grow. They tend to grow in moist environments. Plant could either be potted or grown in the courtyard itself. Medium lights are suitable for a healthy growth. They grow up to 2-3 ft in height maximum. But spreads out easily through propagation depending on the environmental conditions.
11. Dwarf Black Plum Tree
Scientific name: Syzygium caryophyllatum
This a small evergreen plant that grows up to about 5 m in height. Leaves are dark green with white flowers. Edible fruits are present. Its' native to south India and Sri Lanka.
It grows well in semi shaded spaces with good moist soil. But tolerant to dry conditions as well.
12. Strawberry Guava
Scientific name: Psidium cattleyanum
This plant is more of a shrubby plant that grows up to about 5-7 meters in height. It has edible fruits. Can be planted in both indoors and outdoors. Plant can be pruned to your desirable size even.
This grows in average light but tolerate many types of soils. Water is very much needed to keep the plant healthy and strong. If water is lacking the flowers buds might drop even. This usually attracts several insects. Therefore better to keep and eye on it occasionally too.
13. Orange Jasmine Plant
Scientific name: Murraya paniculata
This a very sweetly scented flowering plant with white colored petals. Tree leaves are usually ecliptic. This flourishes well in pots. The main advantage is that during the flowering season, its' fragrance becomes so strong that it will make your household more attractive and warmer.
Plant prefers sun light, so it is better to have a good amount of light and warm temperatures. Soil should not be clogged. Make sure to make it drain well. It should be pruned at a young age. This helped to shape it into the best form when grown well.
14. Curtain Creeper
Scientific name: Vernonia elaeagnifolia
This creeper is more suitable for indoor courtyards or balconies. Supports are needed for it to keep grow and hang down like a curtain. Stems are not very strong. This is a perennial plant therefore the plants hold foliage throughout the years.
Plant grows well in full sunlight with low amount of watering. Propagation is done through stem cuttings. Plant is useful as a screening plant and add more aesthetic quality to your household.
15. Cup of Gold Vine
Scientific name: Solandra maxima
This is a climbing plant which bears golden color flowers with maroon color veins since the name Cup of Gold or Golden chalice. The flowers bear a slight fragrance. The leaves are hard and leathery and extends about 5-8 inches in length.
It can tolerate pruning. But with relevant supporters, plant can climb up any wall or a column. This plant also prefers well drained soil along with somewhat dry conditions. Access to full sunlight is good to keep the plant strong and beautiful.